If you look at the 2011 One Lap of America itinerary, the track listed for Day 5 is Circuit Grand Bayou or some such nonsense. I have been to this track three times now (once for a BMW driving school and twice before with One Lap) and it has always been known as No Problem Raceway. Most of the stuff at the track, buildings, golf carts, paper ID bracelets, trucks, are all still labeled No Problem. It seems that someone new bought the track and wants to turn it into one of those country club type tracks like Monticello or Autobahn, so they had to give it a new upscale name.
Whatever. I'm going to continue to call it No Problem, the same way I call it Sears Point instead of Infineon.
So, we got to our hotel in Donaldsonville at 3:45. We stayed in bed until 7:30 and then headed out for the track about 15 miles further south into the bayou. No Problem is extremely flat and surrounded by woods and sugar cane fields. The track itself is relatively simple and I like it. Because I have done the track so much more than Francis, I did both the morning and afternoon sessions.
It was an absolutely gorgeous day. It was the coldest day on record for that day since they started keeping track back in the 1950s. Maybe the locals were shivering, but most of the One Lap competitors thought the weather was awesome. It was a bit like a summer day in the Pacific Northwest; in the high 60s with a good breeze and clear blue skies.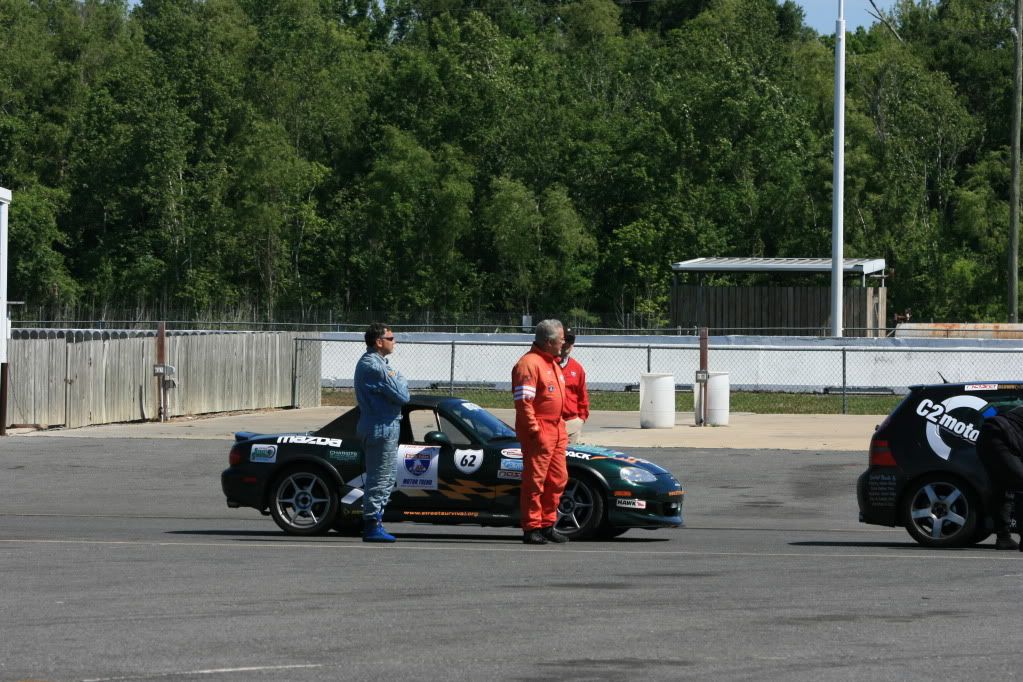 Before the morning session I was hanging out in line with two of the guys in my run group, Chris and Joe. Practically no-one brings a stock car to One Lap. Chris is running that black VW. It's an R32 with a turbocharged V6 motor in it. His co-driver, Josh, was also the builder of the car. His work was absolutely gorgeous. Joe's car is that green Miata, the one with the supercharged motor in it. So my supercharged BMW is kinda normal in that group!
When you look at a racetrack the first thing you look at is the longest straightaway and then figure out how to get the fastest speed out of the corner before that as that will give you the biggest bang for your buck. The front straight at No Problem is mid-length, about 1,900' and is part of the run-off for the drag strip. You enter it through a long, sweeping right had corner that runs onto the straight between two lines of concrete barriers which are only one line when they are drag racing. You can really get the car leaned over pretty far.
Once you hit the apex of the corner, you begin stepping on the gas and unwinding the wheel so that you enter the straight in a smooth and undisturbed fashion.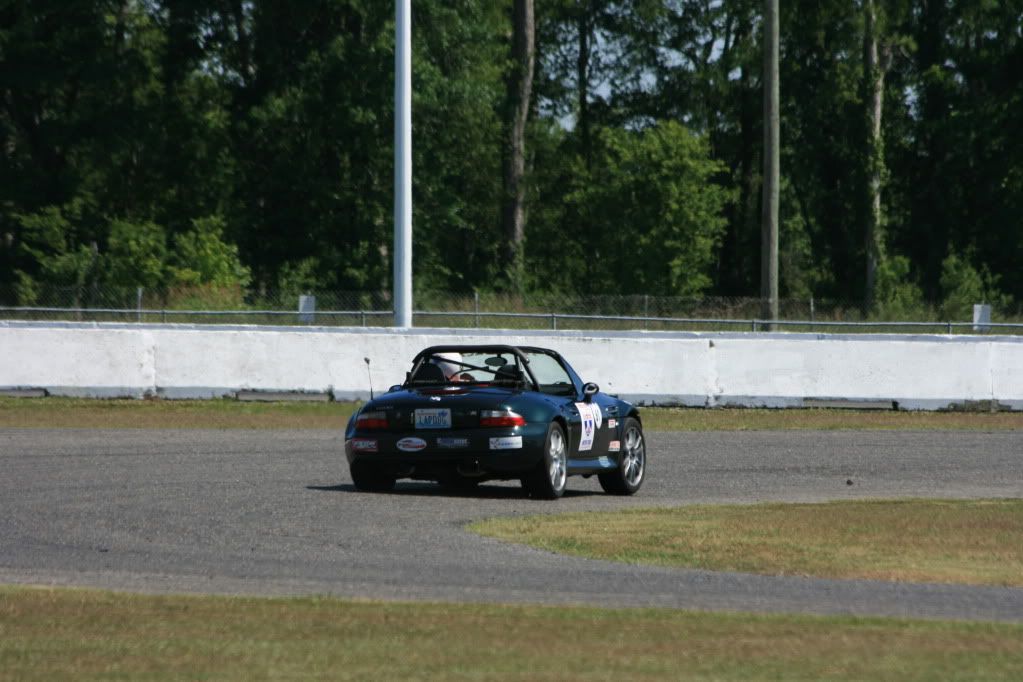 In the morning session I felt pretty good about my run. Come to find out I placed 55th with a time of 4:49.611. I find that kind of depressing. It's expected, but depressing. Neither Francis nor I spend much time at the track because we have so many other things to do in our lives. In fact this track time at One Lap is the first real track time we've had in two years. So, with no practice and not much talent, 55th is to be expected. I just want to be better than that. Unfortunately, the only way to get better is with seat time and I just have too many other things I'm interested in/responsible for to put that kind of time and effort into this.
My afternoon session was somewhat better. I placed 49th with a time of 4:42.350. So, that proves I can get better, it just takes some time. I managed to shave 7 seconds off my morning time and moved up 6 places. I guess I'll have to be satisfied with small improvements because there aren't going to be any great big miracles here.
While I was banging around on the track, Francis was talking with Adam Hennesey, a mechanic who is a part of one of the other teams. He described the repair we could implement and gave us a list of what we would need to accomplish it. Now all we had to do was stop an another auto parts store.
After our second run, we packed up and headed for Leeds, Alabama, just outside of Birmingham. The route we were taking runs right through Hattiesburg where I lived for 14 months from December 2005 to January 2007. I knew right where the auto parts stores were and I knew that my second most favorite barbecue place was just up the street from there. We drove to Hattiesburg, did our shopping and then had dinner at Leatha's. It was as good as I remember.
We stopped for a sit down dinner partly because we had a relatively short transit, only about 450 miles. After dinner, filling our gas tank, and stopping for a venti Americano at the local Starbucks we hit the road with me driving. I drove until the next gas stop just outside of Birmingham. We got gas and, because it was only about 35-40 more miles, I kept driving.
When we got to the hotel we had proof positive that God protects fools. As I got out to go check in, I looked around for my wallet and didn't find it in the place where it usually is, or the other back up spot. At that point, Francis said, "Oh, my God." or something like that. He pointed to my wallet which was sitting outside the car, resting against the top just behind the passenger seat and right near the gas tank filler. It had sat there for 35-40 miles of 70-75 mph freeway driving! What a nightmare it would have been if it had dropped off. First, it is highly unlikely that we would have ever found it. Second, it has everything we need for the trip; my driver's license, credit cards, debit cards, cash. Everything. The reason it was there was because that's where I set it down after using the credit card at the pump while I was pumping gas. I forgot to put it into my pocket. When you get a bit sleep deprived, you can begin to mess up simple things just by not following through all the way to the end of a process. That one could have been a disaster.
We checked in relatively early, 11:00 p.m. Instead of going to bed, I began to work on the post on CMP. I had actually intended to bring it all the way up to date, but I didn't get CMP done until about 12:30 and then just wanted to go to bed, so I did.
Mileage today: 463
Mileage to date: 5,207
States driven through:(I've been thinking of adding this feature and will play catch up here) Washington, Idaho, Montana (70%)- Day 1; Montana (30%), North Dakota, Minnesota (95%) - Day 2; Minnesota (5%), Wisconsin, Illinois, Indiana (30%) - Day 3; Indiana, Ohio, Pennsylvania, Maryland, West Virginia, Virginia - Day 4 (OneLap Day 1); Virginia, North Carolina, South Carolina - Day 5 (OL Day 2); South Carolina, Georgia, Florida - Day 6 (OL Day 3); Florida, Alabama, Mississippi, Louisiana - Day 7 (OL Day 4); Louisiana, Mississippi, Alabama - Day 8 (OL Day 5) 20 states so far
Wildlife seen: lots of snowy egrets around No Problem