Ok, so the scene is set now. My last day of work at Cisco was July 31st. My next day of work there would be November 3rd. I had three months in front of me and lots of projects to fill it.
August 1st found me in my trusty M Roadster headed east. Three days later I was on the east Coast in Portsmouth, Rhode Island. I arrived at the Inn at about 5 pm. Here's what the Escobar Farmhouse Inn looks like:
When you stand on that gorgeous porch and look to the south this is your view:
The wall is obscured by intense amounts of vegetation, mostly multiflora roses, blackberries, and, most pernicious of all, bittersweet. Standing at the end of the existing wall and looking straight south you get a view of the Jungle there:
What I didn't realize at the time was that I would have the opportunity to change the look of that quite a bit. The lawn directly in front of the Inn is the area I'd be working in. Here's the view before any work started: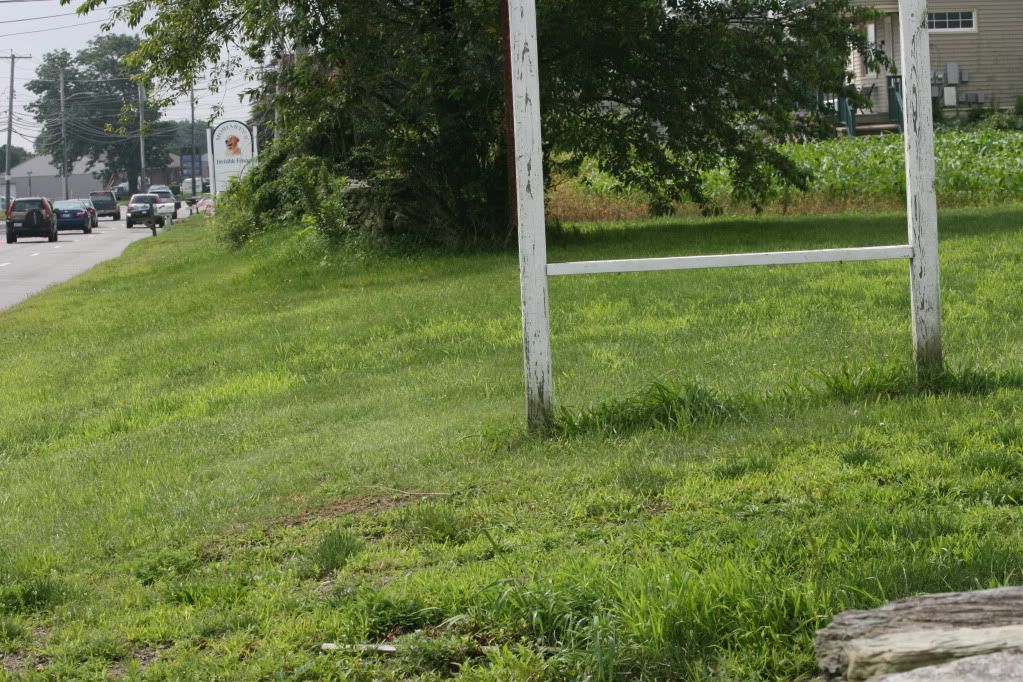 I would be building the wall from the end of the old wall all the way over to the empty sign post.
The first step in building a dry stone wall is to prepare a foundation for it. This is relatively simple: dig a trench about 18" - 24" deep and about a foot wider than the wall, then fill that trench with gravel. As in most developed places, before you do any significant digging, you have to contact the authorities that will certify the location of gas, water, electric lines, etc, so that you don't do any damage while digging. Unfortunately, no-one had done that prior to my arrival. As a result, I could not begin working on the new wall for a week. In the meantime, I kept myself busy by clearing and repairing the old wall. Wall repair commenced on August 5 and will be the subject of my next post.