Barber Motorsports Park in Leeds, Alabama (birthplace and boyhood home of Charles Barkley, so there's a Hoops connection, too) is one of the prettiest, most meticulously maintained racetracks in the country. They have a reputation for being terrifically anal about their facility and that reputation is somewhat deserved. If you put a jackstand down on the pavement, you have to have a piece of wood under it. If you spill fluids (oil, gas, coolant, whatever) on the paddock or racetrack, they will send you a bill for it. If you have an off and hit any of their precious Armco barrier, they will send you a bill for it (after writing up an incident report and having you sign it).
A story told to me was that when he was building the track, someone told Mr. Barber that "in that swamp the bugs will eat you alive." Throughout the facility there are metal sculptures, most of them of bugs of one sort or another. On the infield between a couple of straightaways there is a large spider (spyder?). If you look closely, you can see several little baby spiders around her legs (I'm assuming it's a mama spider).
On the wall of the timing/scoring building along the main straight, there is a very large metal wasp.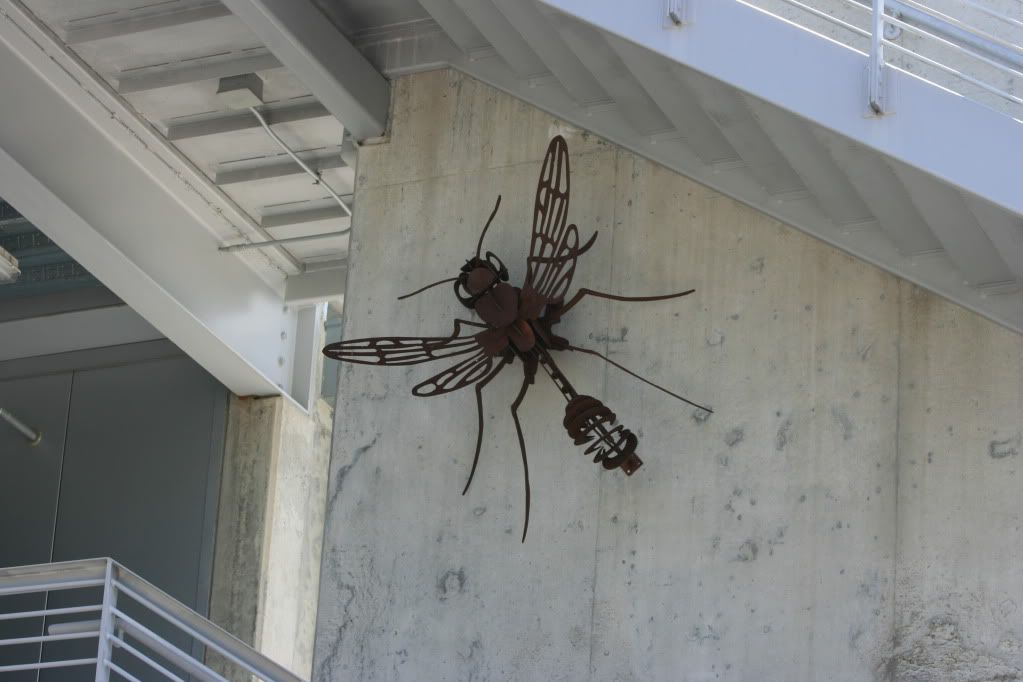 The funniest detail about that is that some birds have built a nest inside the sculpture. I didn't have my camera with me when I noticed that, otherwise there would be a picture of that as well. You can see a tiny bit of nesting material hanging out near it's left shoulder.
In addition to the track they have a museum which houses Mr. Barber's car and motorcycle collection which is truly astounding. I have visited the museum before (one weekend in 2006 while living in Hattiesburg) and spent several hours there looking at the vast array of cars and bikes. I have been told that 75% of his collection is in storage and only about 25% is displayed at any one time. That is amazing as well.
The track is a pretty place to turn money into noise. Because neither of us had ever run a lap at Barber and I had done both time trials at No Problem the day before, Francis was elected to take both sessions today. The day itself was gorgeous; warm, breezy, bright blue sky with some high clouds.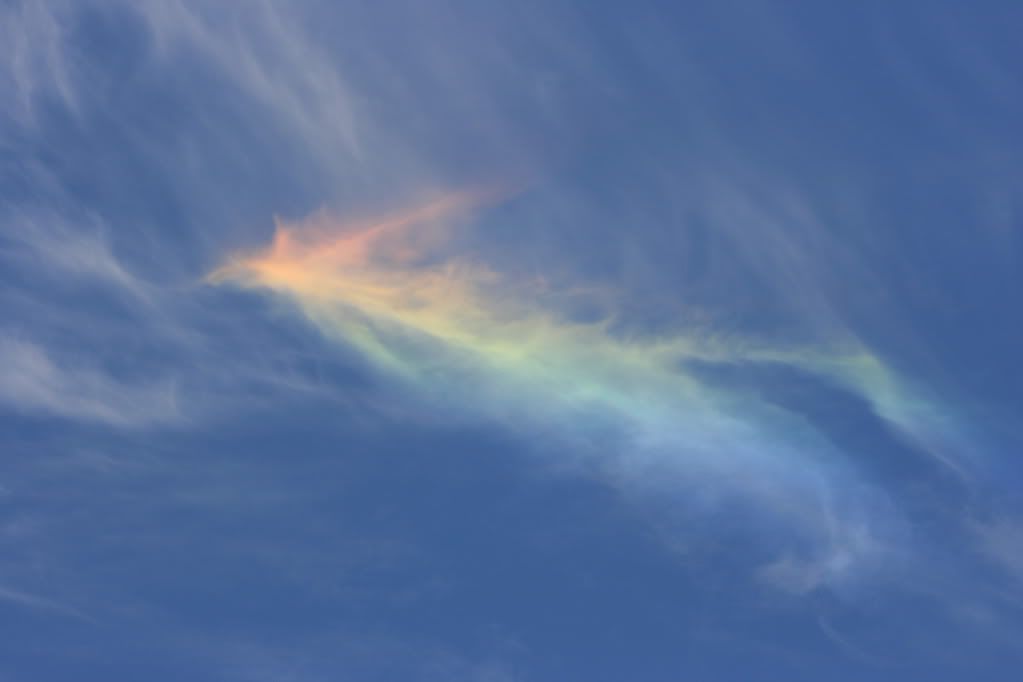 Really a great day to spend at the track. Even the bluebirds came out to watch us race.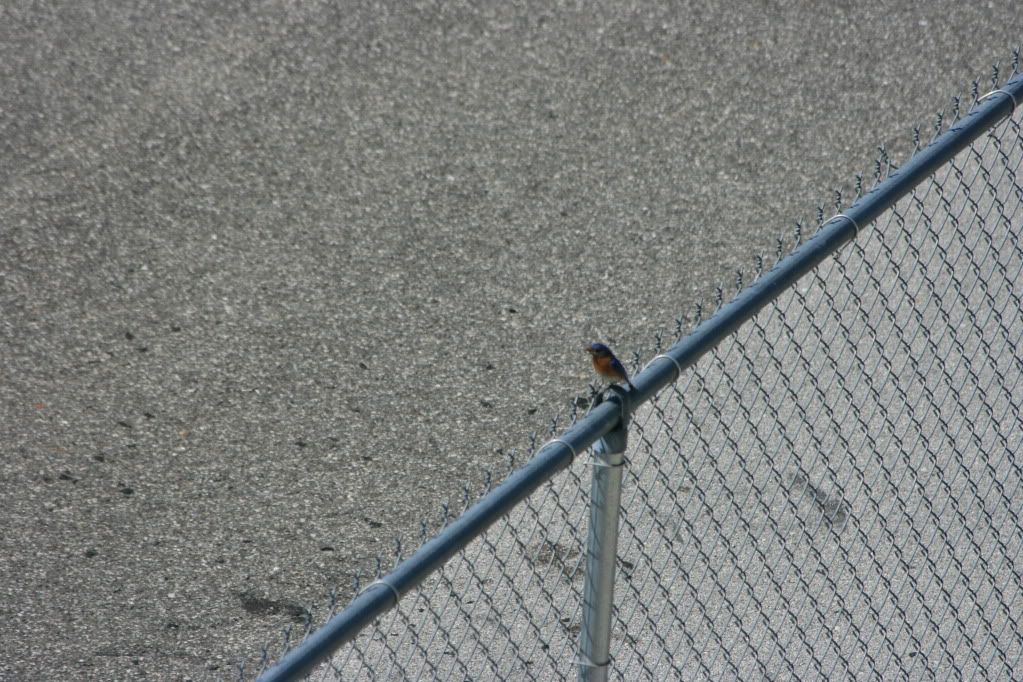 Francis and I talked a bit and reasoned that even though either of us would be slow, he would be the much faster slow, so he went out. Here he is hanging out before the morning session talking with Brock Yates, Jr. and Jason Saini.
Francis' morning run was pretty good. He placed 49th with a time of 5:55.859, undoubtedly way better than I would have done.
At lunch time, they let the non-competing drivers out to do some laps around the track. I must say, I was intimidated by the track when I looked at the layout, but when I drove it I really liked it. There are some really cool corner combinations, a lot of elevations changes, and some decent straights. It also looks like a track that rewards practice. There's no way you could get this track down in 4 laps or even 8 laps. With a couple of days practice, it would begin to reveal its secrets. Anyway, I had a great time.
In the afternoon session, Francis ended up getting much more excitement than he had bargained for. In the picture here (taken during the morning session) he is coming up a hill and running parallel to the main straight.
The entrance is blind and uphill to the right. You're approaching the top rpm in 3rd in the Roadster, so are doing about 90 mph. During his first hot lap of the afternoon session, he got to the top of 3rd and shifted to second instead of fourth. When he let out the clutch, the wheels locked up and he went into a spin. He put the clutch back in, spun a full 360 degrees and managed to keep it in the middle of the track the whole time. He gathered himself back up and continued on, but he was shaken. The results could have been much worse (a blown motor or a significant crash) but weren't due to his quick reactions. Oddly enough, he didn't drop that far in the standings, placing 51st with a time of 5:58.602, only 3 seconds slower than the morning. Good job, Fran Diesel!
We packed up the car and hooked up the trailer and headed out of BMP, pointing north toward Joliet, Illinois. This was going to be the longest transit of the week, over 700 miles. We left at about 3:00 or 3:15 and were making good time going up I-65 in Tennesse when the axle on the trailer shifted (again) and the right side tire began rubbing against the frame and sending up a cloud of blue smoke. We pulled over on the side of the road to fix it. Right behind us a local fellow pulled over in his pickup and offered to help. About 15 minutes later one of our fellow One Lap teams (Tim and Robert in the red Miata) pulled over to help. It took about an hour to get it all set to rights, so we lost a bit of time. However, the fix is really good and is holding up well, so I am confident it will make it all the way back to Seattle.
Alabama experienced some devastating wind storms a little while ago. The evidence was clear all up and down I-65; light poles snapped in half or bent at crazy angles, swathes of trees chewed up and knocked down, road signs completely twisted or blown over.
I slept through a good portion of Kentucky and Indiana because Francis drove two tanks of gas in a row (we usually trade drivers at fill ups). I drove the last tank in to Joliet and the Super 8 motel at 2:35 a.m. on May 6. I didn't even bother to bring my laptop out of the car. I knew I wouldn't do anything with it.
Mileage today: 723
Mileage to date: 5,930
States covered: Alabama, Tennessee, Kentucky, Indiana, Illinois
Wildlife seen: many snowy egrets and bluebirds (at Barber MP)