Well, it has been several days since I last posted. I have many good reasons for that (mostly lack of time and very late nights) which will become apparent as I chronicle the rest of our One Lap 2011 adventure. As of now, One Lap has been over for two days, but I am going to proceed with our story.
We arrived in Daytona Beach, Florida at about 1:45 a.m. and crashed into our beds. We got up around 6:00, got breakfast and then headed across the street to the track. Daytona is an immense complex (more written about its immensity in my posts about the Rolex 24 from late January/early February) and Francis and I were incredibly excited that we would both get to run on the track. Francis took the morning session. Here he is waiting for his run group to start. Doesn't he look handsome and race-driverish in this picture?
Here he is coming across the official start/finish line. The One Lap start/finish line was actually on the infield between Turns 4 and 5 for safety and accessibility reasons, but this is a pretty cool picture and a testament to good (lucky) timing and good living.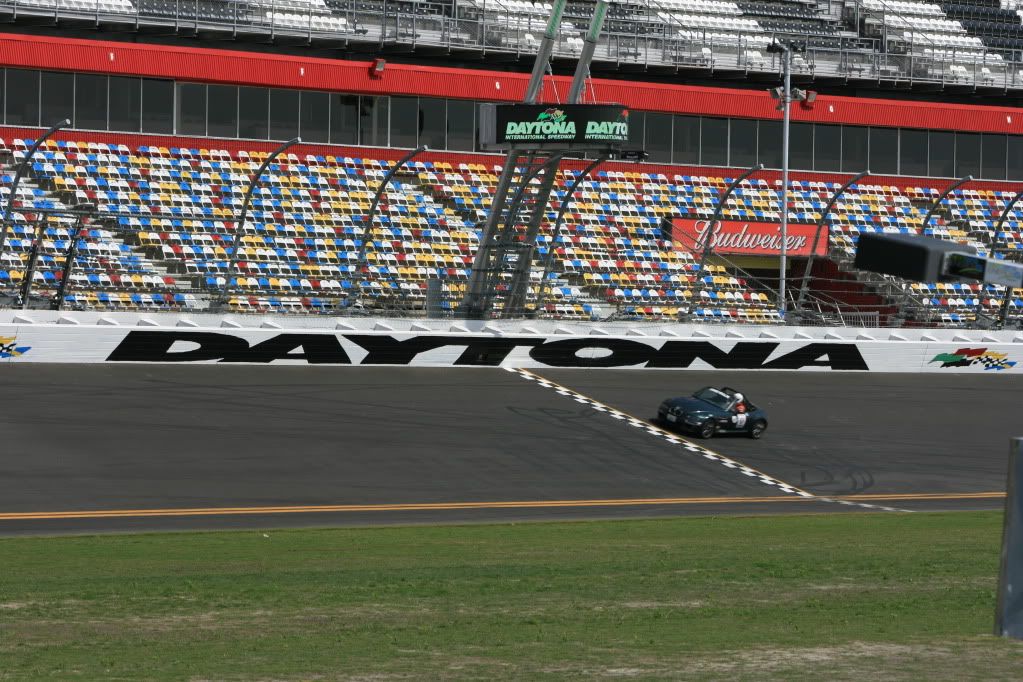 Once you come across start/finish on the tri-oval, you have to get the car slowed down from about 135-140 to about 60 or 70 in order to make the first turn into the infield. It's a comfort to have good reliable brakes. You go through the infield course and then go back up onto the high banks not all that far from where you left. From there you go through NASCAR Turns 1 and 2 and then onto the back straight. Two-thirds of the way down the back straight, you enter what they call The Bus Stop, a chicane that slows cars down to about 60-80 from a relatively high speed, probably 125-130 in our car. After the Bus Stop, you go back up onto the banks for NASCAR Turns 3 and 4 and then onto the tri-oval and the start/finish line. Total length of a lap; about 3.5 miles.
Francis had a really good run, placing 39th with a time of 7:18.230 for the three laps. So, he covered 10.5 miles in 7:18, that's an average speed of 87.74 miles per hour. Doesn't sound like much, but he was hustling.
At lunch time, between the morning and afternoon sessions, they let us out on the track to do several parade laps around the NASCAR oval. Speeds were limited to about 100 mph, which was just fine. It's hard to imagine that the stock cars run at speeds of 195+ on the same track. It gives you a whole new appreciation for their skill level.
The first time you enter the banking the whole world tilts. It is positively mind-blowing. Many people say they feel it is like driving in a tunnel because all you can see is asphalt in front of you, asphalt out the driver's window, asphalt out the passenger's window, and asphalt in your rear view mirror. We didn't have that problem as we ran with the top down. We could see everything.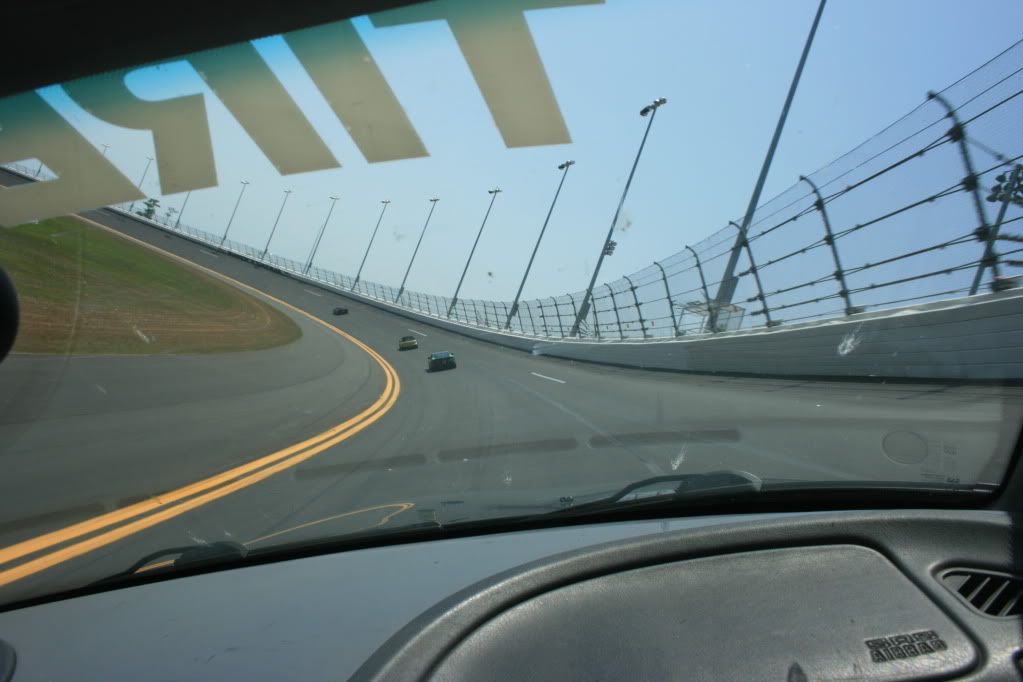 I ran the afternoon session and proved once again that Francis is much faster than me. I placed 50th with a time of 7:34.518, so Francis was a little over 5 seconds a lap faster. Yikes!
Here I am coming out of the East Horseshoe and heading for the One Lap start/finish line. If you look very closely, you can tell it's me. It's hard because we wear the same driver's suit and helmet, but I have clear glasses and Francis always wears sunglasses. I'm kidding of course, it's practically impossible to tell who is driving. You're just going to have to take our word for it.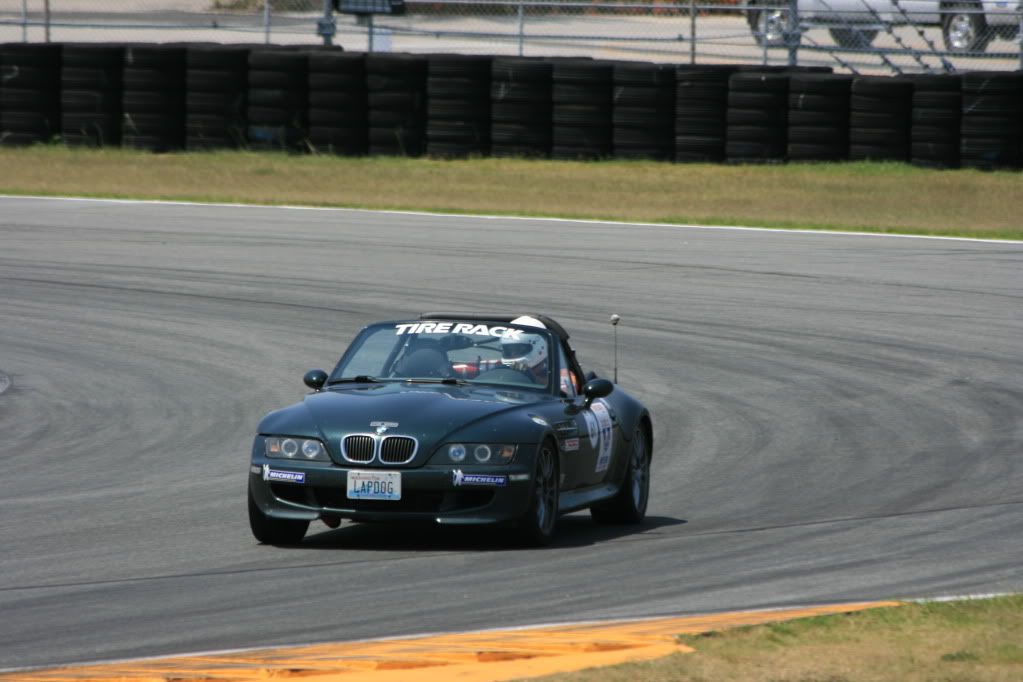 Once we finished the session we packed up and headed out. The route book called for us to head right to Gainesville Raceway for some drag racing; a Low ET competition and then bracket racing. Francis and I had another stop to make first at a NAPA Autoparts store just down the street.
At CMP in South Carolina we discovered that we were losing fluid out of the differential (the part of the car that takes the rotation of the driveshaft and turns it 90 degrees to power the wheels (all cars have them, some in the front, some in the rear, some at both ends)). We were both concerned because if you lose all the fluid, the gears in the differential get really hot and essentially weld themselves together. When that happens, the drive wheels lock up solid and you lose control of the car. We were not interested in that happening, so we had been monitoring the situation.
The problem is relatively common; a mechanic in the group told us that it was probably the O-ring on the output flange and that we could just top up the fluid for now and then fix it later. First, though, we had to get the drain/fill plug off the differential cover. BMW and other German automakers use a 17mm hex key to take the plug off. This is a distinctly uncommon part and size, American manufacturers use a much different system. No one on One Lap had one that we could borrow, so we went to the store to see if we could get one along with some heavier weight gear oil.
They didn't have one, but Francis McGyvered a solution for us. Did you know that if you take a Torx T-60 socket, punch the shaft out of the socket and turn it around, that you now have something pretty close to a 17mm hex key socket? I didn't either, but I do now! We put more fluid in (not much actually, the diff holds about 2 quarts and we put in about a 1 - 1 1/2 cups), got everything packed up (we were doing the work in the NAPA parking lot) and then headed for Gainesville.
I was pretty pessimistic about our chances of even running at Gainesville. We had lost a lot of time putting the fluid in and it was getting to be late afternoon/early evening as we headed across the Florida peninsula. Sure enough, the Low ET competition was over and they had begun the first round of bracket racing. We talked to the organizers and they allowed us to make a Low ET run, but not to be in the bracket racing. We lost points because of that, but were not all that concerned as we really never had a chance at a good finish in our class anyway. Francis ran a 14.334, good for 39th place. He has actually run a 14.00 before. Had he done so, we would have been in 36th.
So now it was getting to be about 7:30 pm. Gainesville is about 110 miles from Daytona and about 600+ miles from our next stop, Donaldsonville, Louisiana. 7:30 p.m. is not the best time to begin a 600 mile transit because you end up getting in extremely late. In our case, extremely late turned out to be 3:45 a.m. on May 4. Now you know why I didn't post that day!