I have not been able to write the past two nights as we got in at 1:45 and 3:45 after the last two transits. It's only 11:30, so I'm feeling significantly better.
So much has happened in so short a period of time. We have a ton of pictures and have had some very cool experiences. I'll try to share a flavor of it with you.
When last I wrote, we had arrived in Lancaster, South Carolina. Monday morning arrived with a warm and sunny welcome. We made our to Carolina Motorsports Park, about 15-20 minutes away. Usually when we do One Lap, Francis and I split the tracks. CMP was his as he has done it before and the learning curve for him will be less steep than for me. I've done it once in the past too, but his experience is more recent. Anyway Francis got himself ready, donning the track suit we share and heading down toward where he had the car parked.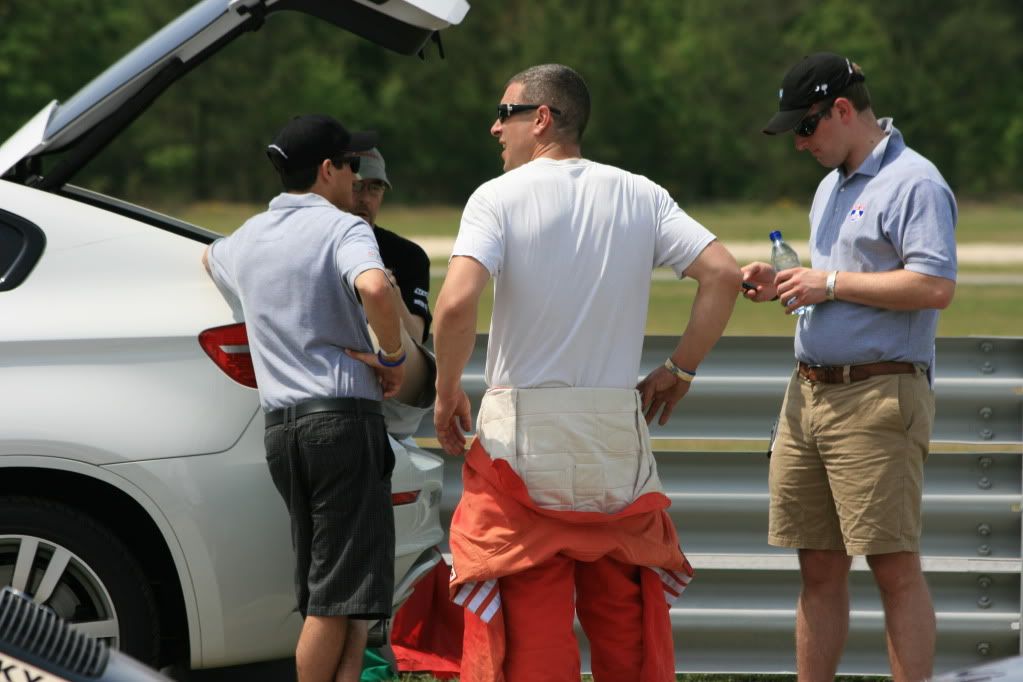 Francis did a great job driving; he usually does. Here he is hard at work between Turns 2 and 3 at CMP.
He placed pretty well (44th with a time of 6:02.474 for three laps) and brought us up in the standings. We're not all that concerned for a number of reasons. One, our car, though considered powerful by most people we know in our regular existence, is considered somewhat mediocre here. At One Lap 500, 600 and 700 horsepower cars are common (and the thing most common about the highest horsepower ones is how often they break). Two, neither Francis or I works hard at being an excellent track driver. I would say it is more within his grasp than mine, but neither of us is putting in the effort to get there. To do so would be to diminish something else in our lives and is a choice we have consciously made. Three, we do not get the opportunity to practice on these circuits on a regular basis. Practice is good; more practice is better. So, when we do well, we're happy, but we also know that we are probably going to place in the 40s or 50s overall. We're here to have a good time.
In his second session, Francis put in another great drive; this time placing 28th with a time of 5:46.867. It's not possible to compare the times straight across because they changed the track configuration, but it was still a great effort. Here he is charging down the front straight at over 100 mph.
I mentioned earlier that the higher horsepower cars break more often. We have had an extraordinary amount of attrition over these past few days. At CMP, no fewer than 4 cars broke. This Porsche Turbo overheated and spread coolant over about 1/3rd of the course. Bad Porsche! Bad!
The theory here is that on oil feed line to the turbo came loose on this Mitsubishi Evo. Spraying hot engine oil onto a turbo that is glowing red is generally a great recipe for fire. That's what happened here.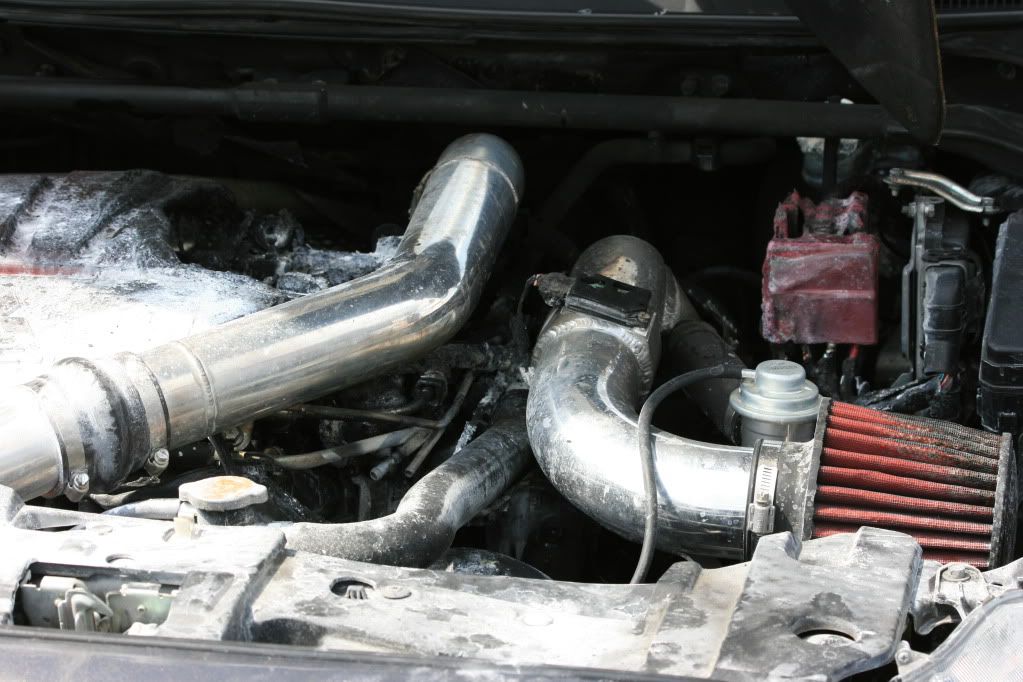 Another Mistubishi Evo cracked its turbo housing. The hot gasses escaping from it fried the shifter mechanism (the turbo was blowing extremely hot air directly on the shifter cables and melted them).
There have been other casualties. Those are the ones I have pictures of at the moment. Fortunately for everyone, the only casualties here have been mechanical; none of the broken cars have caused injury of any type to any of the drivers.
We left CMP in the mid afternoon (3:00 ish) and drove 140 miles northwest across South Carolina to the BMW Performance Center for an autocross on their driver training course. We received an excellent visit from Kevin York, a racer and driving instructor I've known for several years and a man I consider a good friend. Francis placed 47th. Here he is taking off.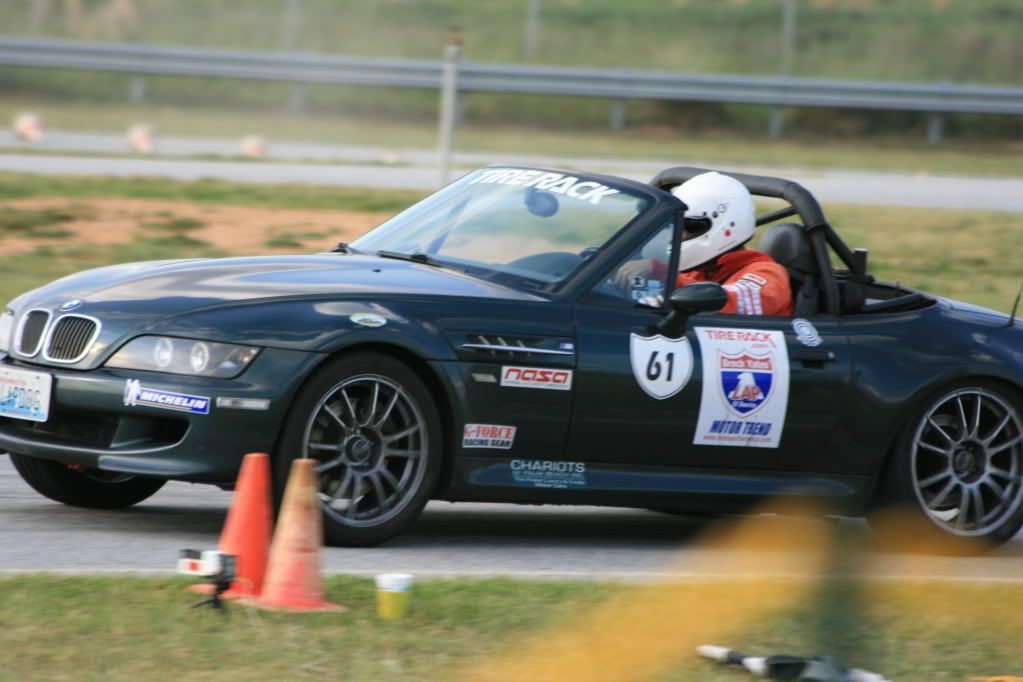 Once we were through at the BMW Center, we packed up and headed for Daytona Beach, Florida. We arrived there at 1:45 a.m. on May 3. It was late, so I didn't do any update on the days activities, even though they had been quite exciting.
It is now early morning (12:44 a.m.) on Thursday, May 5th. I am quite tired and even though I still have two days of adventures to share stories about, I am going to bed. Tomorrow will be another jam packed day and then we have a 700 mile transit to start at the end of it. If I don't get some sleep, I will not be very useful on the drive. Francis is driving Barber Motorsports Park tomorrow. It is a new circuit to both of us, so it should be another adventure. Good night, all.